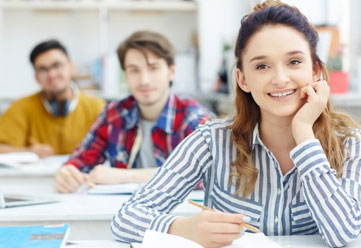 What is the Diploma In Education Programme?
Diploma in Education its acronym is D. Ed which is a teacher training programme which certifies you to become a qualified teacher.
programme is a 2-year certificate-level course.
However, D.Ed course helps to become a nursery school teacher.
D.Ed has different names in different areas, and these names are Junior Basic Training (JBT) or D.EI.Ed (Diploma in Elementary Education), D.T.Ed. (Diploma in Teachers Education).
D.Ed course syllabus focuses on both theory and practical specialization where you are provided with knowledge about behavioral skills for students and teacher relation, cognitive skills at primary level as its base of education.
Take the admission in D.Ed through EdukaP.
---
Course Overview
The course duration of D.Ed is two years. The main aim of this course is to enhance the intellectual, psychological as well as social aspects of the candidate.
This Diploma Program is designed in such a way that it imparts the teaching methodology, skills and subject wise knowledge of the candidates.
---
Who should go for D. Ed?
The candidates who wish to build their career in teaching should opt for D.Ed course.

Even the candidate who can deal with the school children in a friendly manner and can help them in understanding their needs and mindset can take admission in D. Ed.
---
D. Ed Eligibility Criteria:
To qualify for D. Ed course, the eligibility is same as the few of available course that is getting an aggregate mark of 50 % in 10+2 from any government-affiliated institution.
---
D. Ed Admission Criteria:
To get yourself enrolled in D. Ed course, you need to give entrance exam in some states or direct admission through counseling in others. As the institutes provide you with admission on your merit in high school.
Moreover, through EdukaP, the students can get DIRECT ADMISSION IN D.Ed easily.
---
D.Ed Fee Structure and Salary
The average fees which you have to pay for D.Ed course range Rs 30000 to 45000 per annum, which basically depends on the institution from where you pursue your course.
The average starting salary of the D. Ed student ranges from INR 2.4 to 4.8 Lacs, and it can increase depending upon your experience.
---
How is the D. Ed or JBT course beneficial?
The main benefit of D. Ed degree is that you can get jobs in the primary, nursery, middle and high schools.

ou can even take the job as the assistants, educational specialists, educational employees, social worker, consultants etc.

You can even run your own coaching institutes.